Why we must keep campaigning
…against those who would divide, mislead and manipulate us, and for the country we love.
The SNP government and its core support, relentlessly push their separatist agenda, stirring grievance, dismissing inconvenient reality, all in pursuit of the breakup of the UK. That kind of dedication to division, needs to be challenged, with an equal degree of determination, to counter those who would otherwise undermine Scotland's positive place in the UK.
There are many ways to play a part. Amongst other things, I try to contribute through a strong focus on the Letters pages of our newspapers. In this article I talk about some of my reflections on where we have got to, illustrating this with some examples of those letters.
A government misleading its own people
I first became politically active in the midst of the Scottish independence referendum campaign following the 2013 release of the now infamous Scotland's Future 'White Paper'. That document proved to be little more than a nationalist manifesto, politicising the Scottish civil service in the process, with important elements of its content subsequently widely discredited. My initial motivation came from realising that the SNP government was actively trying to mislead its own people. This went well beyond the usual political party tendency to put a spin on events to suit their own ambitions.
It was particularly troubling because the SNP were the government of the day, with considerable direct and indirect power, which I believe needs to be used responsibly, genuinely reflecting a duty of care to all the citizens of Scotland not just those who share one party or ideological view.
I became convinced that the leaders of the SNP did not care about, or indeed properly appreciate, the importance of using those powers with a degree of impartiality to best protect the interests of all. Instead they have applied their nationalist viewpoint to every aspect of government, invariably displaying a rather arrogant 'we know best' attitude in the process. This approach is deeply unhealthy for Scotland and needs to be challenged, or otherwise the nationalist narrative increasingly dominates the public consciousness.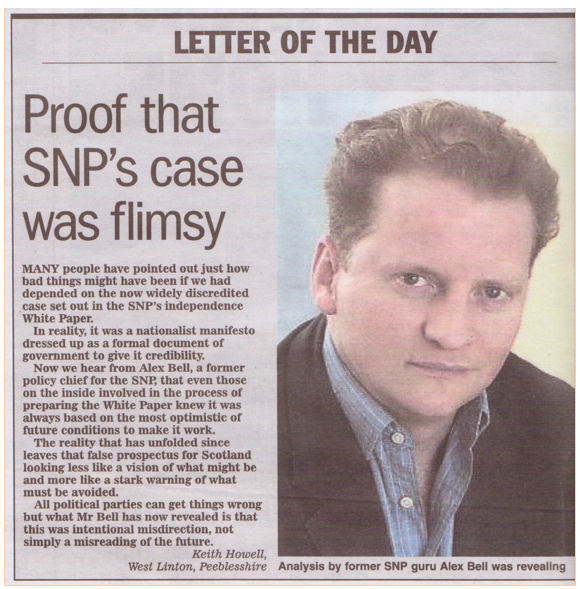 Scottish Daily Express, 18th Nov'15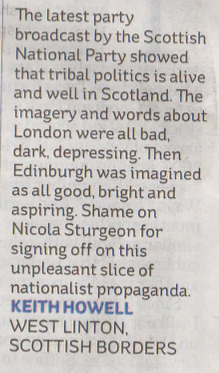 i paper, 1st Feb'16
The SNP's unrelenting propaganda campaign
The eventual outcome of the 2014 Scottish independence referendum was clear enough mathematically. During the campaign leaders on all sides were happy to view it as something that the country would not have to go through again for a very long time. Yet, after the result was known, the SNP leadership quickly decided that to keep its core support engaged, it would regularly speculate about having a second referendum at a point to best suit the SNP.
As a consequence, those who do not want to see our country divided, need to keep 'campaigning' too, taking an active interest in unfolding events in Scotland and being positively involved in challenging Scottish nationalism. In particular it is critical that the many misconceptions and half-truths that the SNP spin doctors like to regularly put out do not go unquestioned. The SNP are waging an unrelenting propaganda campaign, and do so from the privileged position of the seat of government, which gives them a great advantage. They regularly imply that Scotland and the people of Scotland are the same thing as the SNP, and of course have long sought to hijack the saltire as if it were theirs alone.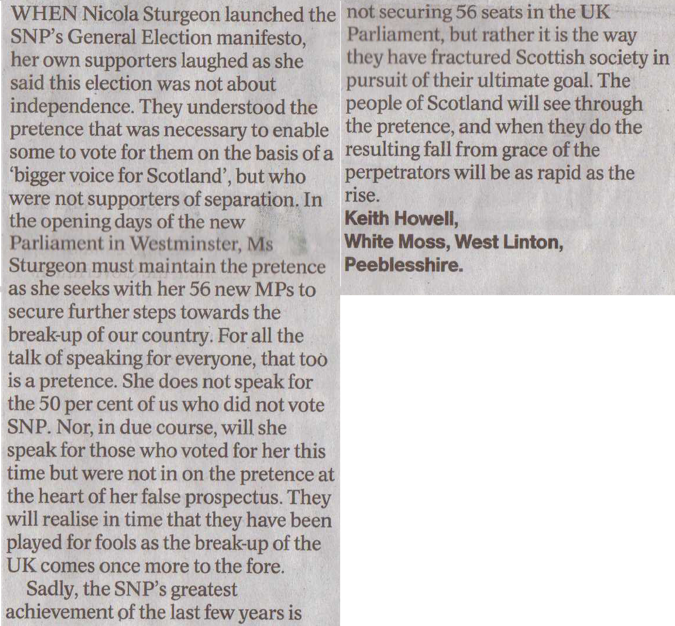 The Herald, 12th May'15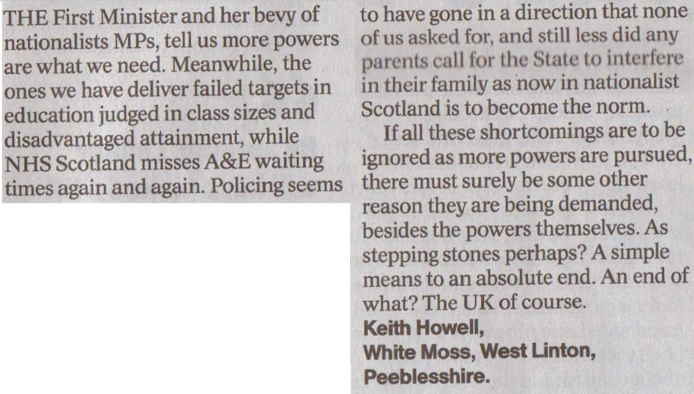 The Herald, 16th May'15
The real cost of poor government.
With the SNP's election as Scotland's government there comes a great responsibility. The people of Scotland depend on those in power to use public resources to best effect for the well being of us all. Yet Nicola Sturgeon is keeping this government's strongest focus on trying to secure political advantage for the SNP's overriding ambition of independence, currently off the back of the Brexit result. Meanwhile, a range of critical issues are suffering from a lack of attention to detail and determined follow through. The signs are there in problems in delivery of key public services, missing of fundamental performance targets, and introduction of ill-judged legislation. All point to a government that has its main focus elsewhere.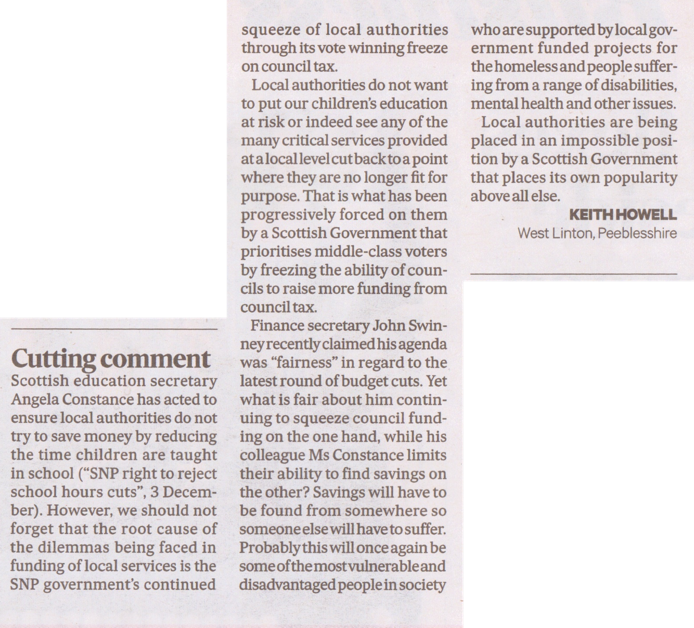 Scotsman, 4th Dec'15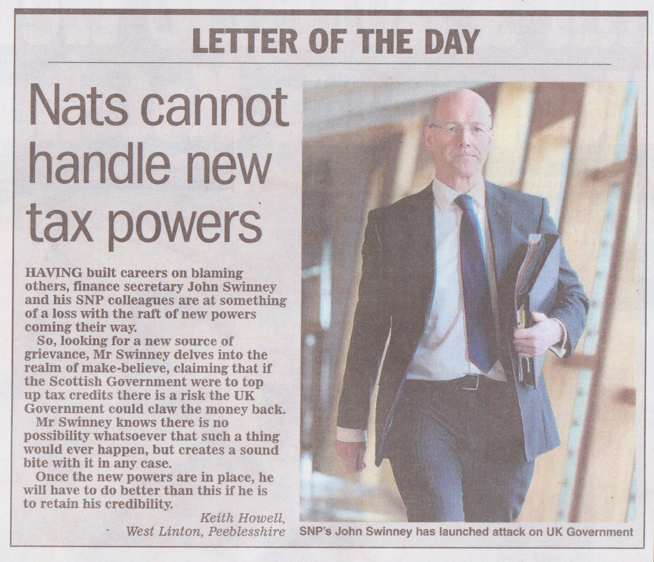 Scottish Daily Express, 12 Nov'15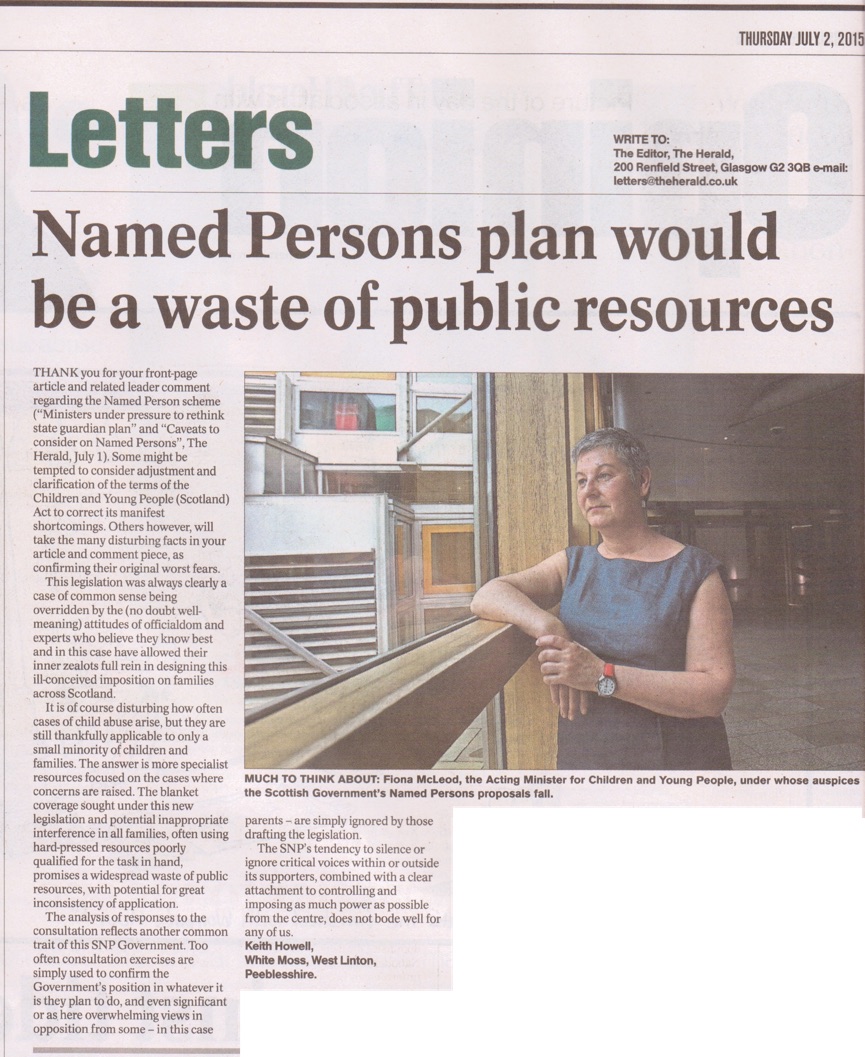 Herald, 2nd July'15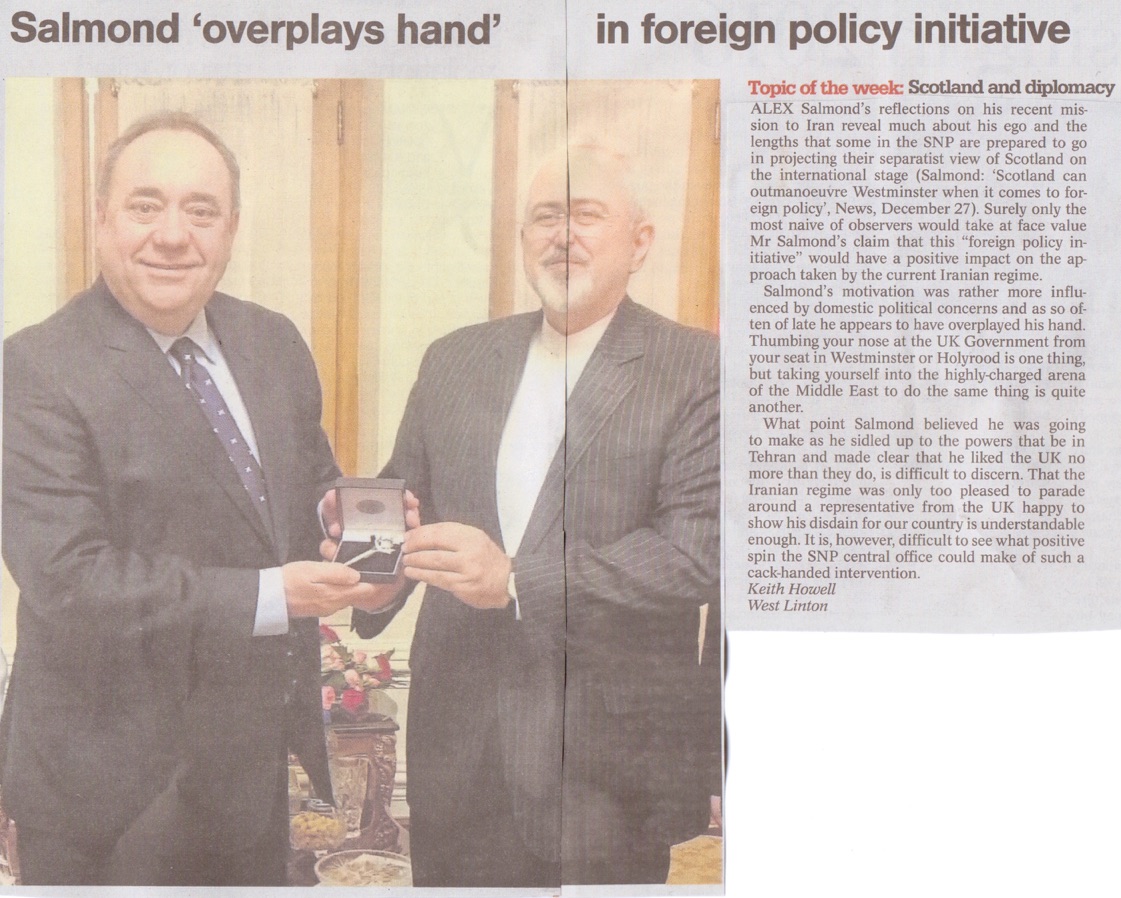 Sunday Herald, 3rd Jan'16
Silencing their critics
Meanwhile, the propaganda continues, as do the attempts to silence critics.
As much as the SNP spin doctors use every possible opportunity to push the nationalist viewpoint on every issue, they are equally quick to stir a sense of grievance against any who try to hold them to account. How often have we heard the response from the nationalists that their critics are 'talking Scotland down', seeking to imply that those who criticise the SNP are somehow being unpatriotic. Many of their more ardent supporters then take this a step further and slip into intimidation and abuse. This developed into a virtual online industry during the Scottish referendum campaign and has continued to this day. These unsavoury tactics are reflected on the street, on social media and in the press, where SNP activists rush to denounce any who dare to criticise the SNP's performance or question their approach. The targets of the uglier side of Scottish nationalism include those whose job it is to ask searching questions of the SNP's leadership, whether they be reporters or broadcasters, and so find themselves at odds with the SNP faithful.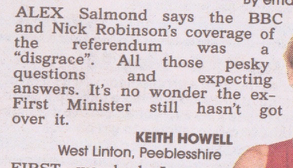 Sun, 27th Aug'15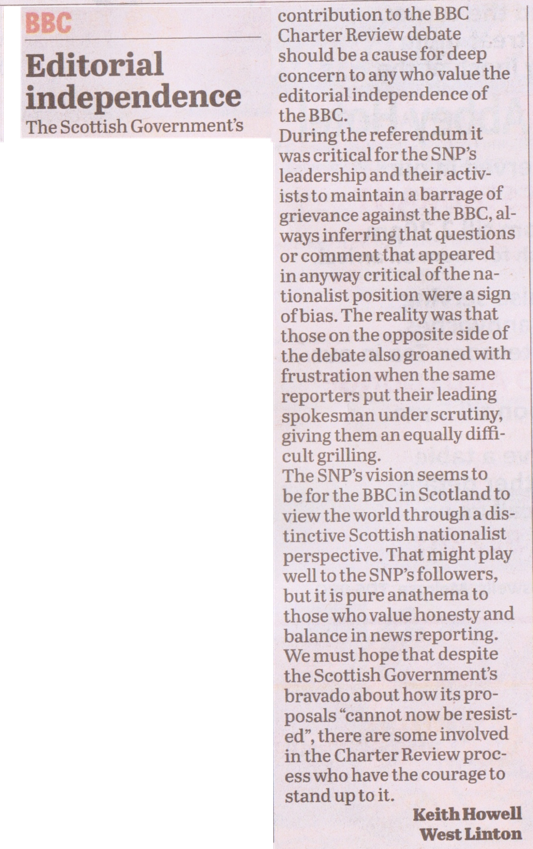 Southern Reporter, 25th Feb'16
Scotland – the SNP's political plaything?
Unrelenting speculation about a second independence referendum is undeniably costly for Scotland, not least in terms of the impact on our economy, as the uncertainty of Brexit is compounded with the prospect of separating from the UK, which is by far the most significant market for our goods and services. The message this gives to inward investors is that if you want a secure place to invest, then Scotland is not for you until the SNP have resolved whether or not they want to be out of the UK, risking leaving us out of the EU too.
Yet in many ways the financial cost is the least of it. Already Scotland is bearing a huge cost as Scottish nationalism uses and abuses the power of the Scottish government to further its own ambitions rather than focusing on the well being of all of us. Critical public services suffer in ways that are ever more obvious, and neither performance in delivery of those services or the quality of legislation being introduced by the SNP is getting properly considered by the Holyrood parliament's committee system as the SNP have knowingly undermined it. Those who criticise or challenge the dominance of the nationalist approach have to stand up to a corrosive atmosphere in Scotland, through unofficial and official means seeking to silence those who would try to stand up to them.
Worst of all is the way that people have become ever more divided by the atmosphere created as this ideology seeks to further its ambitions by stirring grievance and driving wedges between people wherever it can. This leaves Scotland held back from its full potential, as its government focuses on seeking independence at any cost.
There are commentators who question whether Nicola Sturgeon is serious in wanting another referendum in the near term. While some nationalists argue that there is no better time to try to exploit the advantage that they perceive in the Brexit result, others strike a note of caution, recognising the risk of setting back the case for independence for a generation, if another referendum should again favour support for Scotland's positive place in the UK.
Yet even if Nicola Sturgeon is keeping her powder dry on whether and when she will call another referendum, the message from her every action since the Brexit result has been that she is preparing to impose a second referendum as soon as she feels it can succeed. Great uncertainty has resulted from this, with an unofficial campaign for separation now undeniably underway, as the First Minister sends 120,000 SNP activists onto doorsteps with 'surveys' in hand. These are clearly intended to deliver the one message that she wants to hear. Scotland is not a political plaything for the SNP, but that is how they treat it.
Keith Howell, September 2016