Offer of help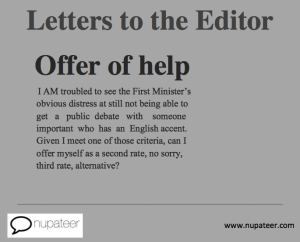 I am troubled to see the First Minister's obvious distress at still not being able to get a public debate with someone important who has an English accent. Given that I meet one of those criteria, can I offer myself as a second rate, no sorry, third rate, alternative? Having lived in Scotland for 23 years, cybernats tell me my English accent is still a problem, so it might work for the First Minister. He clearly hopes that the symbolism of the one who sees himself as first amongst all Scots debating with someone with an English accent might just be enough to tip the balance of the remaining undecideds in his favour.
Admittedly, my accent is more at the cockney barrow-boy end of the market with no echoes of the voices on the playing fields of Eton that I have so often heard the First Minister refer to. Nevertheless, I would be delighted to help. As the public have clearly had enough of the usual slanging match approach, I suggest we simply speak in turn, without interruption, responding to the following 4 questions:
Has the case for breaking up the United Kingdom been made?
Could the negotiations with Europe lose us more 'independence' than we gain in separating from the UK?
How far can a Government legitimately go in pursuit of one man's ambition?
Will the sun always shine in an independent Scotland?
As a further incentive to the First Minister to take up my offer, I would be very happy to promise in advance not to mention the pound or indeed any other currency of either the 'Plan A' or the 'Plan B' variety. And he could choose the venue. Perhaps somewhere a little different? We could be filmed talking over a cup of tea at Bute House for example. Or we could take to the streets with Irn-Bru crates to stand on, when no doubt his uncoordinated supporters would happen along with things to throw at me. Or we could be really quirky and hold the whole thing in a lift. I read recently the First Minister had a similar encounter with a close friend of mine, called nupateer.
Anyway, just thought I'd pass my offer of help along….
KEITH HOWELL, West Linton, Peeblesshire