The SNP has lost its moral authority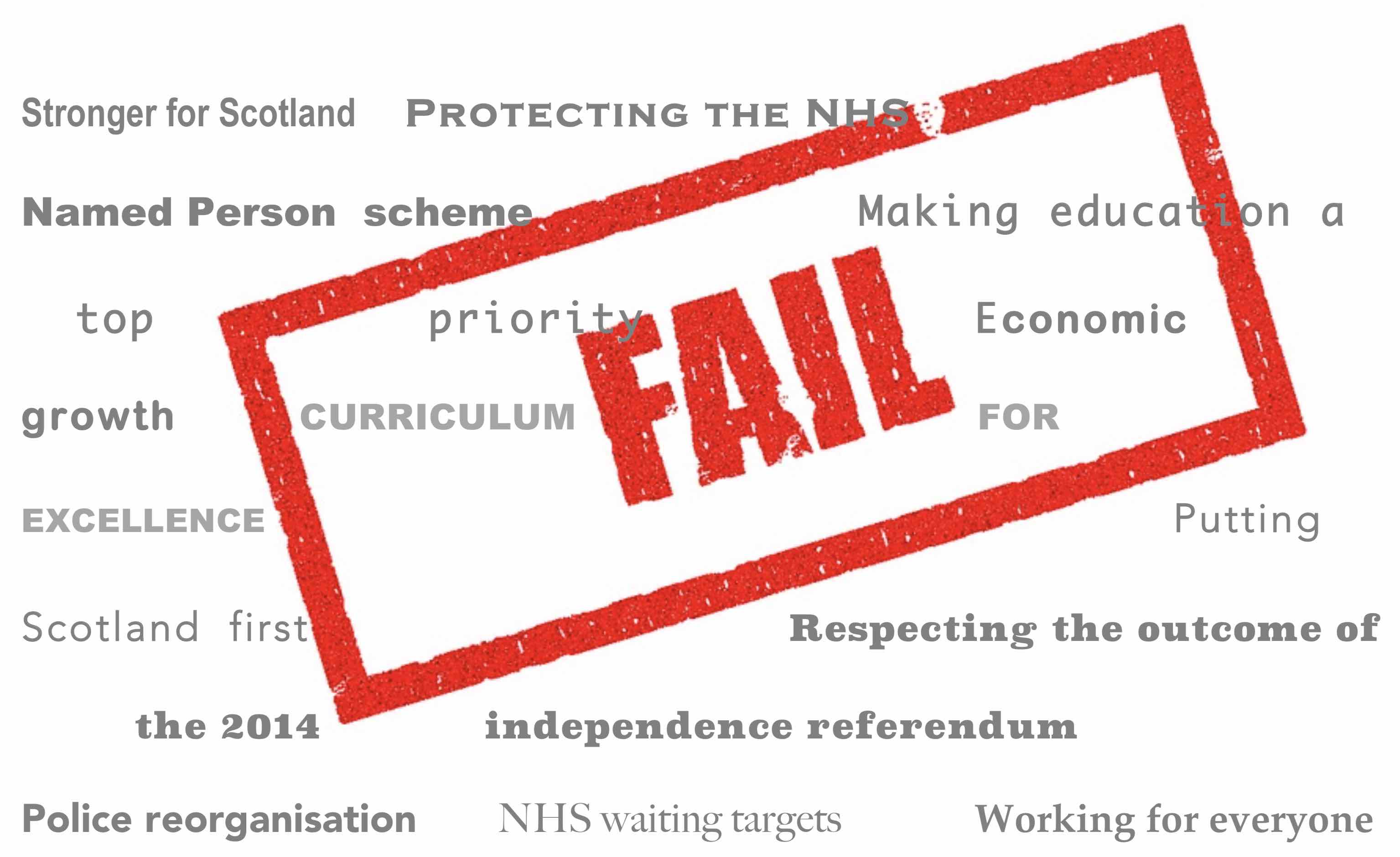 Coming to power in 2007, the SNP promised a safe pair of hands in the day to day work of government, as well as a new kind of politics compared with the Westminster that it so likes to demonise. Initially SNP ministers were more surefooted than many of their critics had anticipated. But as the SNP's focus turned to the overriding ambition of independence, so Scotland began to suffer the cost of a party in government that viewed this goal as transcending all else. It involved the kind of distraction that would leave even the most able of governments struggling.
Increasingly, the First Minister and her team are in denial about their shortcomings, and at the same time ignoring public opinion when it does not match the SNP's preferred view of Scotland. In so many ways, the SNP is simply losing its moral authority, not just with people generally, but also with much of its own core support:
(1) PUTTING SCOTLAND FIRST?
The SNP promised to put Scotland first, but instead time and again the SNP's separatist ambitions have been prioritised, putting the drive for independence first, leaving our health service, education, and other critical public services languishing behind.
(2) WORKING FOR EVERYONE?
When she became First Minister, Nicola Sturgeon promised to represent all of Scotland, no matter how we voted in the referendum or which party we voted for. Yet since then she has only listened to those who agree with her, and rubbing salt in the wound, she regularly misrepresents the SNP's view as being the same thing as Scotland as a whole.
(3) A NEW TYPE OF POLITICS?
The SNP promised a new type of politics. But a sequence of scandals involving their MPs and MSPs, and antics in the House of Commons that bring their own brand of disrespect into politics, show them to be no better than other parties. Indeed, the SNP has given us a new intensity of grievance politics, always ready to blame, never taking responsibility.
(4) A SAFE PAIR OF HANDS?
The challenge facing the SNP ministerial team to demonstrate a 'safe pair of hands' in office over the course of the last decade, has not be met, instead in many areas they have taken us backwards. Across critical public services for which the SNP have been responsible for over a decade, frontline professionals suffer stretched resources and underfunding, and having to deal with the SNP's mismanaged reforms.
(5) EDUCATION – FROM WORLD CLASS TO SECOND CLASS?
Nicola Sturgeon says education is her top priority, yet those delivering for our children in classrooms, know this once world class service has been badly let down by the SNP, with funding through local authority budgets relentlessly squeezed in favour of central spending aimed at shoring up the SNP's popularity. Meanwhile, the SNP's implementation of the Curriculum for Excellence has undermined much of what was so good about Scottish education.
(6) NHS SCOTLAND – PROTECTED OR MISMANAGED?
In recent elections and referendums the SNP has sought to portray its opponents as not being trustworthy when it comes to our critical health service. Yet in practice, as the SNP has redirected some of the NHS Barnett consequentials to its own favoured uses, the result is inadequate resources on our hospital wards for medical professionals to meet ever growing demand.
(7) BREXIT – THE 'WILL OF THE PEOPLE' OR AN EXCUSE FOR INDYREF2?
Nicola Sturgeon rushed to judgement in the immediate aftermath of the EU referendum result, starting preparations for a second independence referendum. Part of her rationale was a knowing misuse of the Remain votes in Scotland, ignoring how they related to a UK-wide plebiscite and that no one gave authority for them to be used as support for Scotland leaving the UK.
(8) INDEPENDENCE AT ANY COST?
Everyone knows the SNP has one overriding ambition. No one is surprised that the SNP does everything possible to progress the agenda for independence. Yet the relentless pursuit of that overriding ambition at the expense of good government for Scotland is unforgivable. Brexit is just being used as the latest excuse to try to justify a second independence referendum.
(9) 2014 INDEPENDENCE CAMPAIGN – 'EXEMPLAR' OR ATTEMPT TO MISLEAD THE PEOPLE?
The SNP like to view the 2014 independence referendum campaign through rose coloured spectacles, dismissing widespread abuse and intimidation by some of their core supporters, and glossing over the now widely discredited White Paper produced in a blatant attempt, since confirmed by insiders, to mislead the people of Scotland. Claims by the current First Minister and her predecessor that the whole process was an exemplar of how a referendum should be conducted reflect the SNP's tendency to airbrush out the lessons of history they would prefer us to forget.
(10) 'WE-KNOW-BEST' POLITICS
The SNP is developing its own 'nanny-state'. Having let us down in many of the fundamentals we depend on government for, the SNP has sought plaudits for spending our money on universal benefits dispensed without care for where the need is greatest, as it tries to bolster its popularity. It is also becoming adept at banning things and telling us how to behave, happy to interfere in family life with for example their widely disliked named person scheme. This is all imposed upon us with the confidence that can only comes from that 'we-know-best' attitude which is becoming the SNP's signature stance.
The SNP has one overriding purpose, that transcends all else, namely, to separate Scotland from the rest of the UK. In its single-minded pursuit of this goal, it has lost touch with the real needs of Scotland, increasingly putting the SNP's interests ahead of those of Scotland as a whole. As the reality of SNP government becomes ever more clear, we must hope the people of Scotland recognise the SNP's loss of moral authority, and deliver their judgement in the ballot box.
Keith Howell
September, 2018