Links for the Union
There are many very good websites, blogs, and Facebook pages that offer a tremendous commentary from the perspective of those who favour Scotland staying in the UK – across a wide spectrum of political parties, campaign groups and individuals. The range of opinions covered here is broad in terms of political, community and personal perspectives, but the common ingredient is support for the Union of Scotland with the rest of the UK. I have included details of 7 websites and Facebook pages here that are amongst my favourites. Each of the main Scottish pro-Union political parties have very active websites but of course major on their individual perspectives rather than the wider campaign to protect the Union. Also while the Better Together campaign was very active during the Referendum on behalf of the cross party campaign, that site is now no longer properly operational. The broader campaign to promote Scotland's place within the United Kingdom is now led by:

An excellent site with broad appeal to those wanting the UK to stay together. A non-party movement including diverse opinions but all supporting the view that staying together is in the interests of the people of Scotland and the rest of the UK.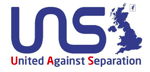 The very successful Facebook Voteno2014 page during the Referendum campaign, now rebranded United Against Separation with 66,577 likes and a very active community – the largest grassroots Unionist/Pro-UK movement in Scotland. Dedicated to keeping our country together.
(3) http://chokkablog.blogspot.co.uk
Kevin Hague's excellent 'Chokka Blog' which does a great job with it in-depth economic and financial analysis exposing the shortcomings of the SNP's economic plans and claims, particularly those proposed during the referendum. Includes a number of very clear and helpful videos.
(4) https://whytepaper.wordpress.com
Fraser Whyte's 'The Whyte Paper' is a fine blog that get to the heart of issues with a impressive insight and factual back-up – see for example his 'Meme-busting' section that de-bunks myths and mis-information put about by some of those on the nationalist side who have a habit of strengthening weak arguments by just making stuff up.
(5) https://docs.google.com/document/d/16iR4zmlaf3PyU6RiNRtt4bFQt1bQ-q-P23n2xvVQnOg/edit
Neil Lovatt's comprehensive 'The Live Red, White, Blue, Book' is another superb contribution to clarifying, in its words, 'the facts the nationalists want to avoid'. Taken together with Kevin Hague and Fraser Whyte's blogs, this is a tremendous resource for proving all those things you thought were the case but did not have the factual back-up to prove.

A new group who argue the case for Scotland in the UK and against independence. In particular they encourage opposition parties to produce the policies to defeat the SNP in the 2021 Holyrood elections
A very nice blog from Effie Deans called 'Lily of St Leonards' with a wide range of interesting thoughts and ideas largely related to Scottish politics